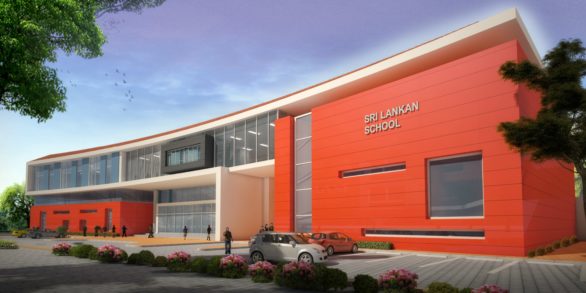 SSLSD New Primary Wings Open
Stafford Sri Lankan School Doha will ceremoniously open their expanded campus for pre- primary students on the former Palestinian school premises on Sunday 23rd April 2017. This function will be attended by H.E the ambassador of Sri Lanka to Qatar together with several other dignitaries and school extends an open invitation to all parents and well-wishers to attend this opening ceremony from 6.00 pm onwards.
This new campus will allow the school to accommodate the growing demand by doubling its existing area and this will bring relief to the parents who have been waiting in the long list to admit their children to the only Sri Lankan school in Doha. The new wing will provide 8 new classrooms in the first phase, and Lower Reception and Upper Reception students will occupy these classes. Furthermore, a state of the art AMI classroom as well as an outside play area will be available in this new facility. New class rooms will also be equipped with 55''LED screens and computers allowing the teachers to groom the young students for future in a technology rich resourceful environment from their early days. More primary classes will be shifted to this new wing in the next academic year once the second phase of construction is completed.
Furthermore, the classrooms vacated by the LR and UR students will be utilized as resource rooms for the upper school solving yet another long standing space issue in the growing school.
It was nothing short of a miracle that the adjoining Palestinian school moved to a new premises and Sri Lankan school was able to lease that facility in a locality which is in high demand , allowing the school to sustain at an hour of near crisis due to lack of space.
However this will only be a temporary station in the road map for building a purpose built school for the Sri Lankan expatriate community in Qatar within the next 2 years.
The chairman, board of trustees and the principal extend their gratitude to parents, organizations as well as well-wishers who supported this renovation projects in numerous ways and look forward to receiving the same collaboration in achieving schools' future goals.